Luxurious & Practical Bespoke Outdoor Kitchens
Crafted with 25 years of unrivalled kitchen design and engineering know-how. Discover extraordinary outdoor kitchens to transform your lifestyle.
We have an evolutionary need to connect with our surroundings.
Cooking and dining al fresco stimulates our senses, helping us unwind and get back to nature.
Cooking outside is a great opportunity to get together with friends and family. However, while spending time outside with your favourite people should be fun and relaxing, dashing between your kitchen and BBQ can be anything but.
From refrigerators and utensils drawers to pristine worktops, an outdoor kitchen from Mascari offers everything you need to prepare and cook a fantastic meal all in one convenient place.
Bespoke indoor kitchens, outside.
Specifically crafted to surpass all others, our range of outdoor kitchens is fine-tuned to excel where other outdoor kitchens lack.
Designed by experts with years of experience in the kitchen industry, our range brings the luxury and finesse of a gorgeous, bespoke indoor kitchen outside.
Over the past few years, we have grown to appreciate our outdoors spaces much more. And our fantastic outdoor kitchens are created with this in mind. Our collection embraces the joys of outdoor living, giving you greater flexibility to enjoy your space in brilliant new ways. Created with superb quality and bespoke customisation at their heart, our outdoor kitchens make an exceptional addition to outdoor living.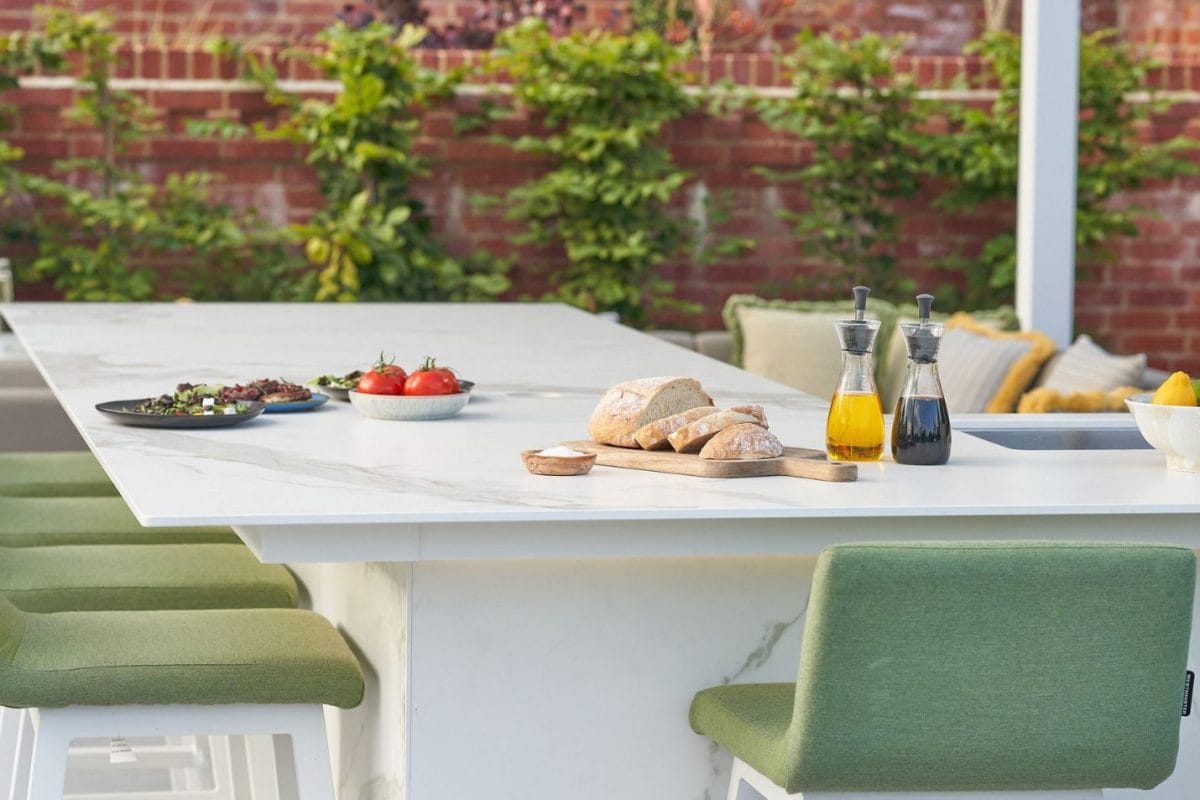 The outdoor kitchen collection at Mascari.
Our impressive outdoor kitchen collection offers something to suit all requirements and budgets. All our innovative, intricately designed products feature a host of exceptional benefits, including luxurious push-to-open, soft-close cabinets that maximise every inch of storage space and robust catches that prevent the doors from blowing open in high winds. Each kitchen also features fully adjustable legs to accommodate uneven ground and ingenious insect-proof ventilation screens.
KonigOutdoor: The ultimate in luxury & sophistication.
Our partners, KonigOutdoor have developed an astoundingly beautiful and durable high-end solution for outdoor living. It combines luxurious sintered stone surfaces with a durable, weatherproof structure to provide the functionality of an indoor kitchen, outdoors.
Matched with a range of the highest-grade outdoor cooking appliances, KonigOutdoor offers the complete package to experience those tranquil summer evenings.
If you're passionate about cooking and you love spending time surrounded by nature whether hosting or relaxing, our fantastic bespoke outdoor kitchens are the perfect way to enhance your space and elevate your home.
Discover state-of-the-art outdoor cooking technology.
Complete with full power and water supply, you can choose from a range of refrigerators, sinks, hobs, grills and BBQs. Our luxurious, cutting-edge outdoor kitchens allow you to experience your home without compromise.
Manufactured in Britain using the finest quality Blum components, KonigOutdoor kitchens epitomise unrivalled durability and longevity.
However, to extend the life of your kitchen, we would recommend installing it alongside one of our stunning pergolas or covers. That way, you are also protected from the elements should the weather change.
Our exquisite bespoke products can be tailored to your exact needs, offering the ultimate versatility.
FÓGHER: Exceptional quality meets outstanding value.
Fògher's luxurious modular outdoor kitchens represent unrivalled design freedom. Every individual element is tailored to not only excel at each dedicated function but to combine seamlessly with the next, allowing you to create a completely unique and personalised layout.
Crafted in Italy from premium satin stainless steel and rustproof lacquered surfaces, their high-quality products are built to withstand everything the British weather has to throw at them. Get more from your home and your budget with a stylish, high-performance outdoor kitchen from Fògher.
Everything you need to elevate outdoor cooking.
At Mascari, we are experts in a range of fantastic outdoor kitchen solutions. Our sleek collection of contemporary modular kitchens, can accommodate our stainless-steel storage drawers and access doors as well as our amazing grills, BBQs and appliances.
The simple construction of our classic outdoor kitchens allows complete flexibility in terms of layout, scale and colour. Our stunning traditional built-in kitchens make a superb feature as part of your outdoor living space. Our kitchens offer all the exceptional cooking capabilities of an indoor kitchen and more while allowing you to spend time relaxing and socialising with friends and family outside.
Experience our innovative and luxurious collections in person
Why not plan a visit to the Mascari showroom? You can find out more about our Ruddington showroom.